And at your own pace.
The robotics education program at Circuit Launch is divided into two pathways: the Team based CoLab program where students collaborate as part of a team to reach a common project goal; and the Individualized CoLab program, designed for students who want to learn new skills while working on their own project and is built around your specific learning goals.
The Individualized CoLab runs from the start of each month (next intake April 1st 2021), and continues on a monthly basis (for as long as you want), with weekly 'Mastermind' sessions with a technical mentor. These sessions are shared with a small number of students also working on their own projects, providing an opportunity to provide peer mentoring and a support framework as well.
It's kind of like Circuit Launch membership, but ON STEROIDS. Plus you can attend virtually or in-person at Circuit Launch Lab.
The Individualized CoLab is also suitable for students at all levels, from beginners to advanced, whereas the Team CoLab prerequisite is one area of technical knowledge (either electronics, hardware or software).
Where do you want to start?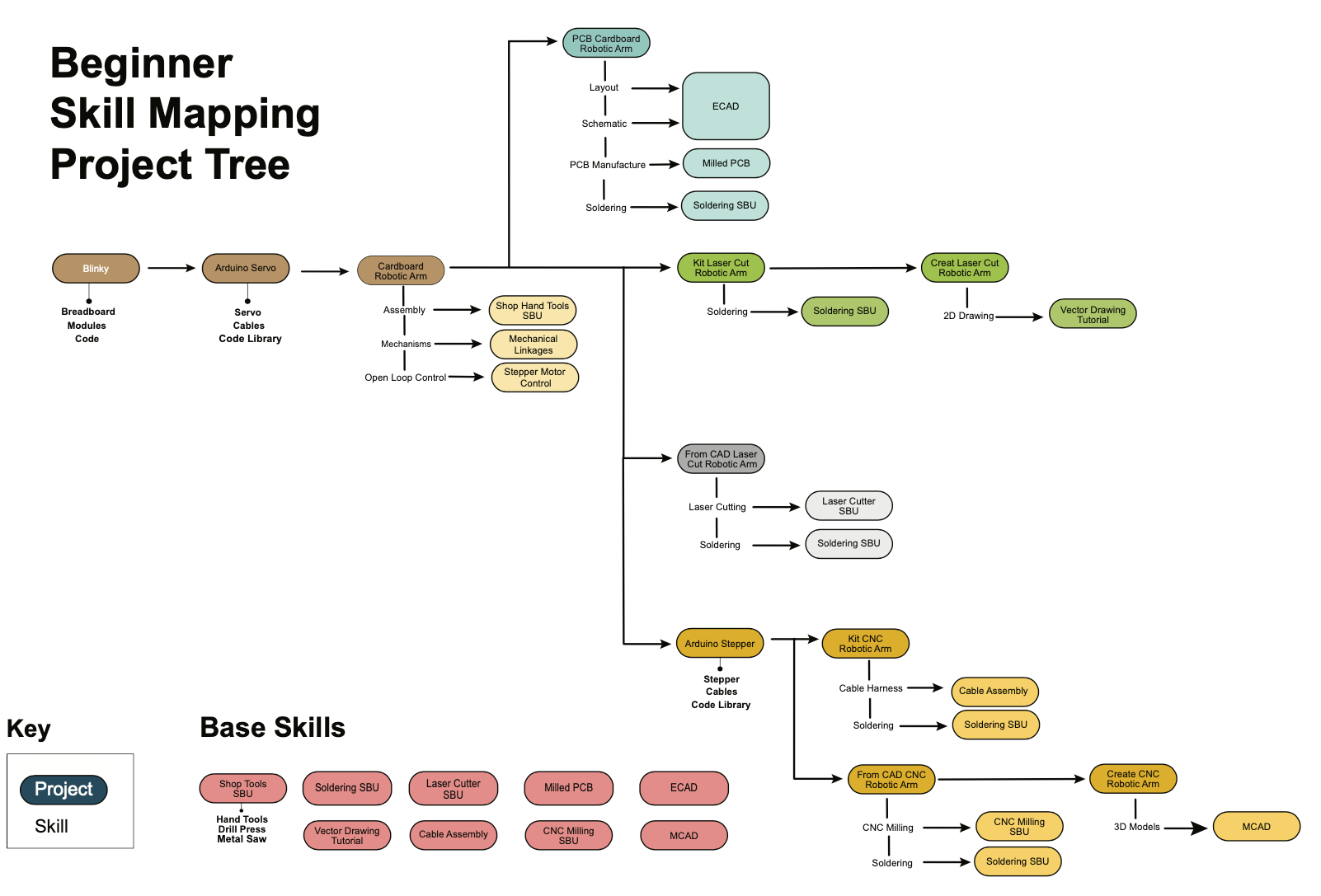 This project tree illustrates examples of micro-projects organzied by basic skill area.
Interested in learning how to prototype your own circuit board? Then the green section above charts the key areas you need to cover. This corresponds to our micro-project database where you can select the project matched to the skill you wish to develop.
Need inspiration? Check out these project ideas.
Already have a project?
Great!
Bring your own project and get access to the tools, machines and equipment you need. Participate in the weekly 'Mastermind' session with the Technical Mentor and fellow CoLab students which target knowledge and skill gaps and provide momentum to overcome obstacles.
Entrance Criteria
For the Individualized CoLab no experience is necessary. Parts, kits, consumables, and project materials are all your responsibility to purchase. We can help you choose projects that are within your budget. You can also apply to work on projects that utilize Circuit Launch robots and community hardware based on availability.
Attendance
Students can participate virtually or in person.
Around half of our students have been participating virtually during the pandemic. We use a range of tools and platforms (Zoom, Discord, Slack, Notion) to enable virtual collaboration so you can learn from home. If you are interested in participating in person, please see the section below regarding COVID compliance.
Time commitment
We recommend 20 hours per week commitment for this program to be effective, however you will get out of it what you put into it. The Mastermind session is the only structured meeting each week (90 mins), but can be attended asynchronously if necessary.
COVID compliance. Very important.
This program is COVID compliant. We require masks while in the space at Circuit Launch. Full social distancing and safety protocols are in place. Plus we have Molekule air filters activated while we're working in the Lab. During the pandemic we have a limit of 10 students in person in the Lab at any time.