How do you learn to build a humanoid robot in 12 weeks with team members in different cities and time zones?
Great question!
And it was a key consideration in creating a distinctive program that breaks the traditional mold of engineering education in a time that demands flexibility, different thinking and an innovative approach.
Circuit Launch, located in Oakland, California, set out with the goal of creating an experimental, high quality education program where students could build robots and be hands-on from DAY ONE while learning from experts within our community AND each other.
As an experimental pilot during a global pandemic, it has been a fascinating one!
So, what shall we build?
Core to the key learning potential of this program is choosing a robotics project that provides maximum opportunity for exploration and skill development. And we found it with Pollen Robotics open source humanoid robot: REACHY.
REACHY ticks many boxes:
open source and accessible with a growing community
innovative design and distinctive hardware
multiple avenues for development & application
endless opportunities to explore human - computer interaction
vision and voice recognition.
Pollen Robotics, based in Bordeaux, France, has also developed the ORBITA; a unique 3 degrees of freedom joint (as the neck), which gives Reachy's head movement an incredible amount of expressiveness.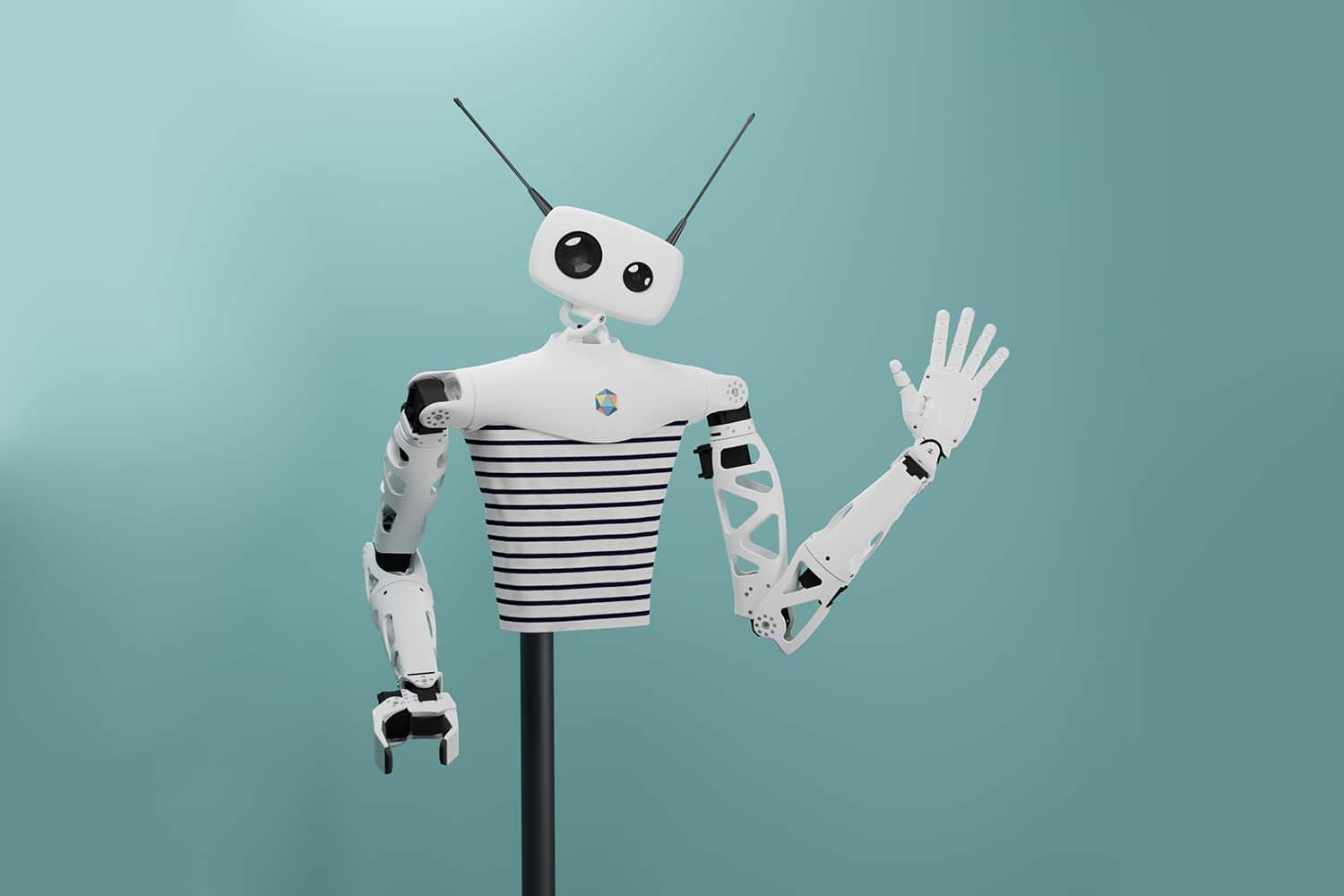 Peer to peer, across the globe
The first of many challenges is creating virtual and in real life environments that encourage collaboration and peer to peer learning while staying COVID safe.
Guided by Technical Mentor and robotics industry veteran Andrew Gillies (formerly of Dash Robotics), the team dived head first into a plywood robotic arm on day one of Orientation Week.
Twelve students across four timezones joined us both virtually and in the Lab at Circuit Launch.
To enable optimal collaboration over teleconferencing, we set up multiple cameras in the Lab and encouraged cross functional teams working together in real time in Zoom break-out rooms.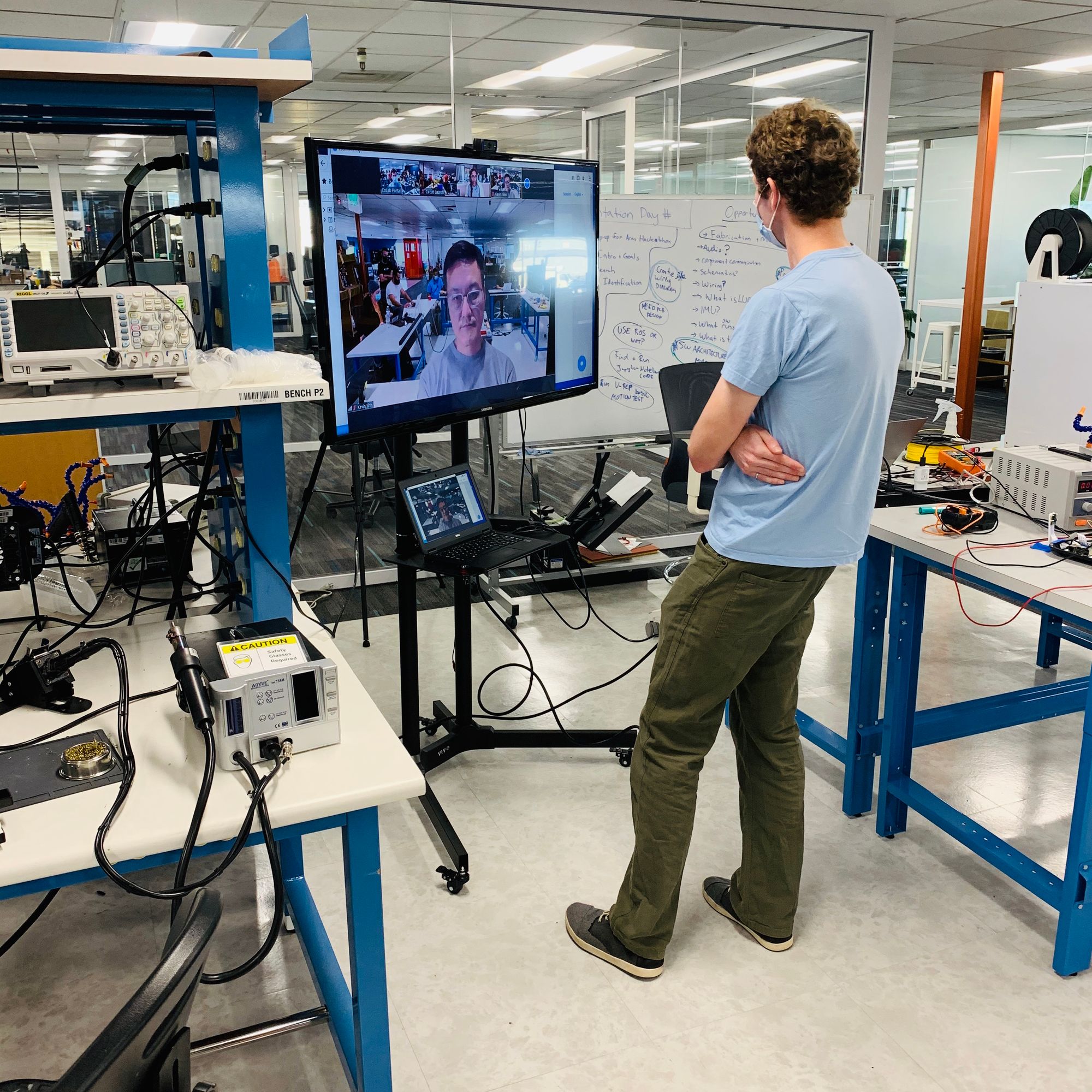 Some of our remote students opted for the software development team, but a few also had their own hardware and electrical setups at home. Peer learning combined with support from Andrew and Dan O'Mara, Circuit Launch COO created some great energy during the hackathon.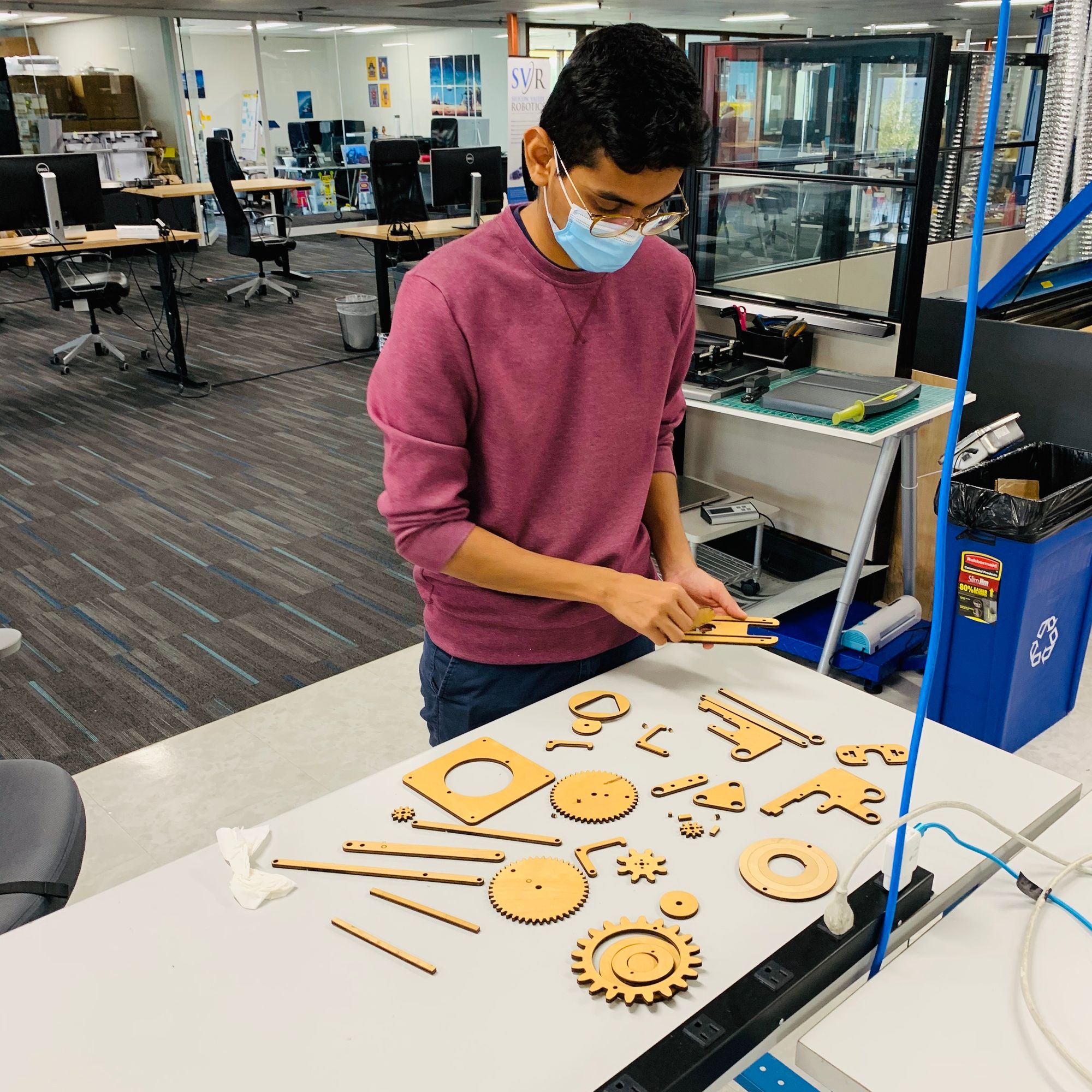 Day two was a deep dive into REACHY and gaining familiarity with the system and the resources Pollen provided. And then on day three we explored the challenges of 3D printing components intended for SLS (selective laser sintering) rather than FDM (fused deposition modelling) or SLA (stereolithography such as the Formlabs Form2 resin printer). Without an expensive SLS machine, we needed to improvise!
In the following days we had some quick wins following experiments with various supports in FDM which required some sanding and cleanup.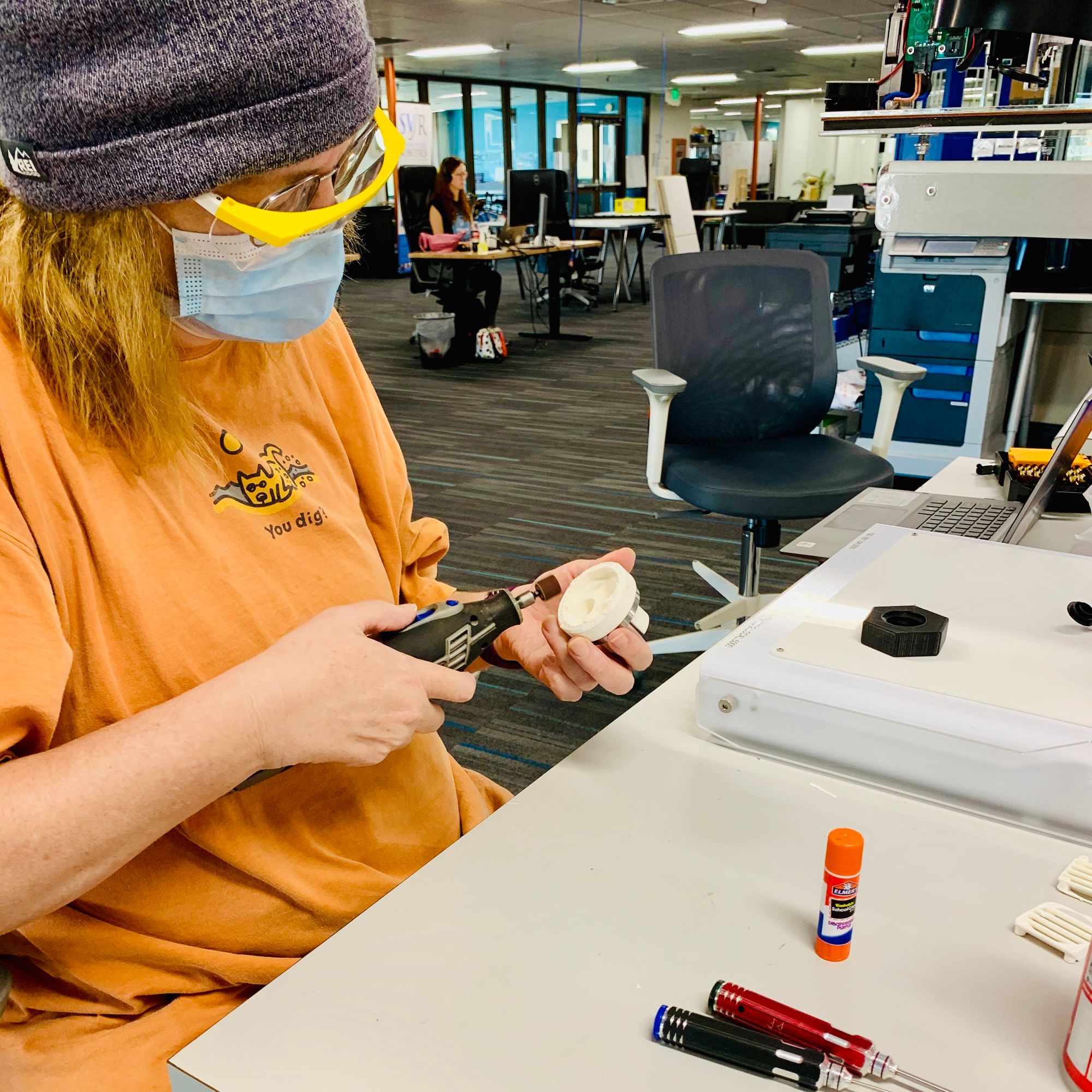 Up next? Let's figure out the ORBITA joint!
With Orientation week done and dusted, we kicked off weekly SCRUM Sprints where the team selects 2 week sprint goals to break down the robot build into digestible chunks, mirroring the commonly used project management methodology used traditionally in software development.
The first sprint was to focus on the head and neck which contains the ORBITA joint. The goal was to move the head to two positions and take a picture through the eye lens at each position.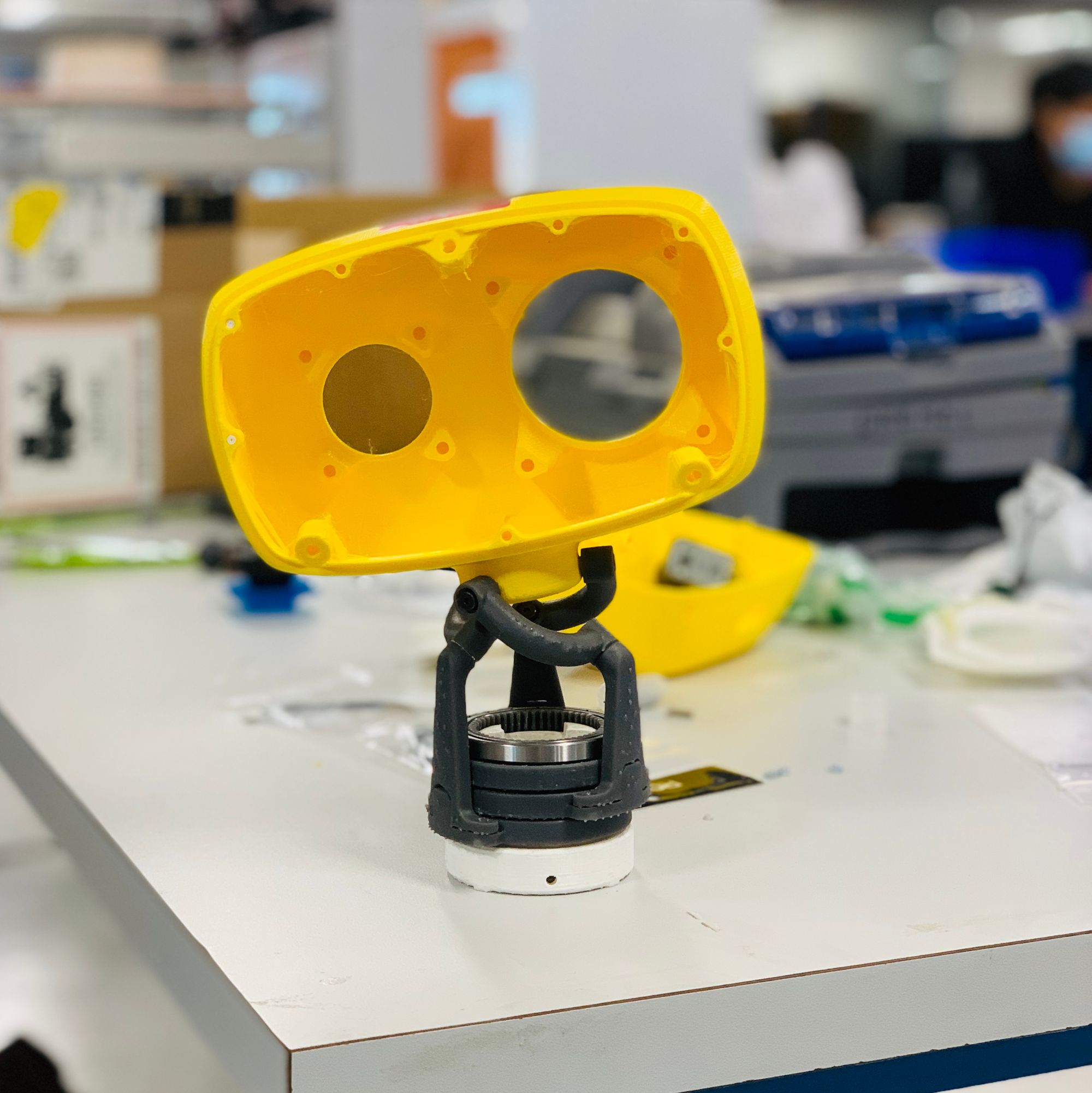 Here is where the students pushed the limits of 3D printing, while tackling assembly tasks and testing code.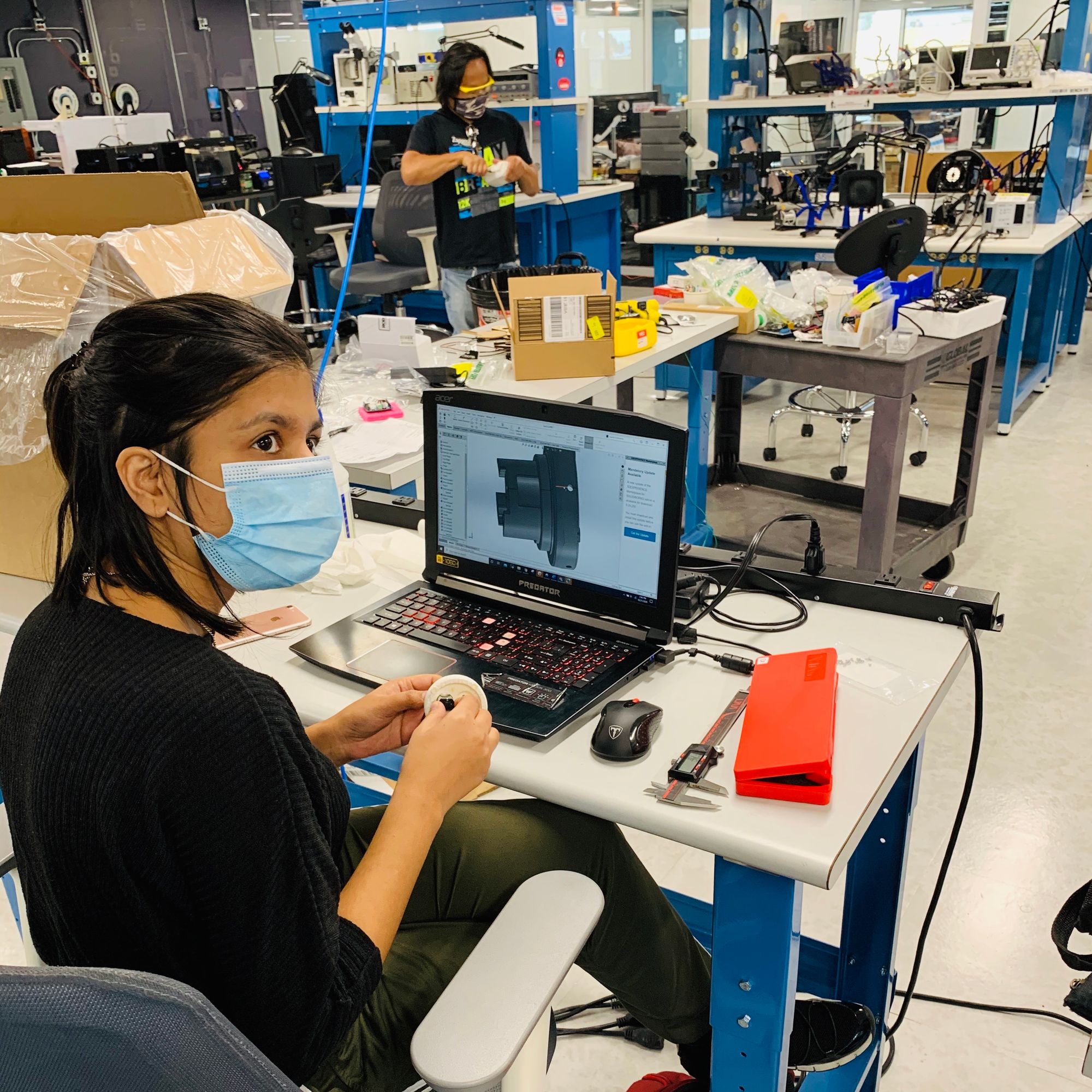 The team split the tasks into the software to run the motion and take pictures, fabricating the mechanical assembly, and wiring up the motors and electronics. The challenge was even greater with the students on site and across the globe attending virtually and asynchronously. We ended up with a test bench of hardware that could be remotely accessed to load the code and test it in real-time.
Of course hardware is hard, and while all the individual elements were accomplished, translating the Orbita from an open source design to a working prototype came down to sanding, dremeling, and re-printing for a different set of tolerances.
So what's next?
The team is very excited to build the shoulder and torso, but the arrival of some very special components last week from France created some buzz in the Lab...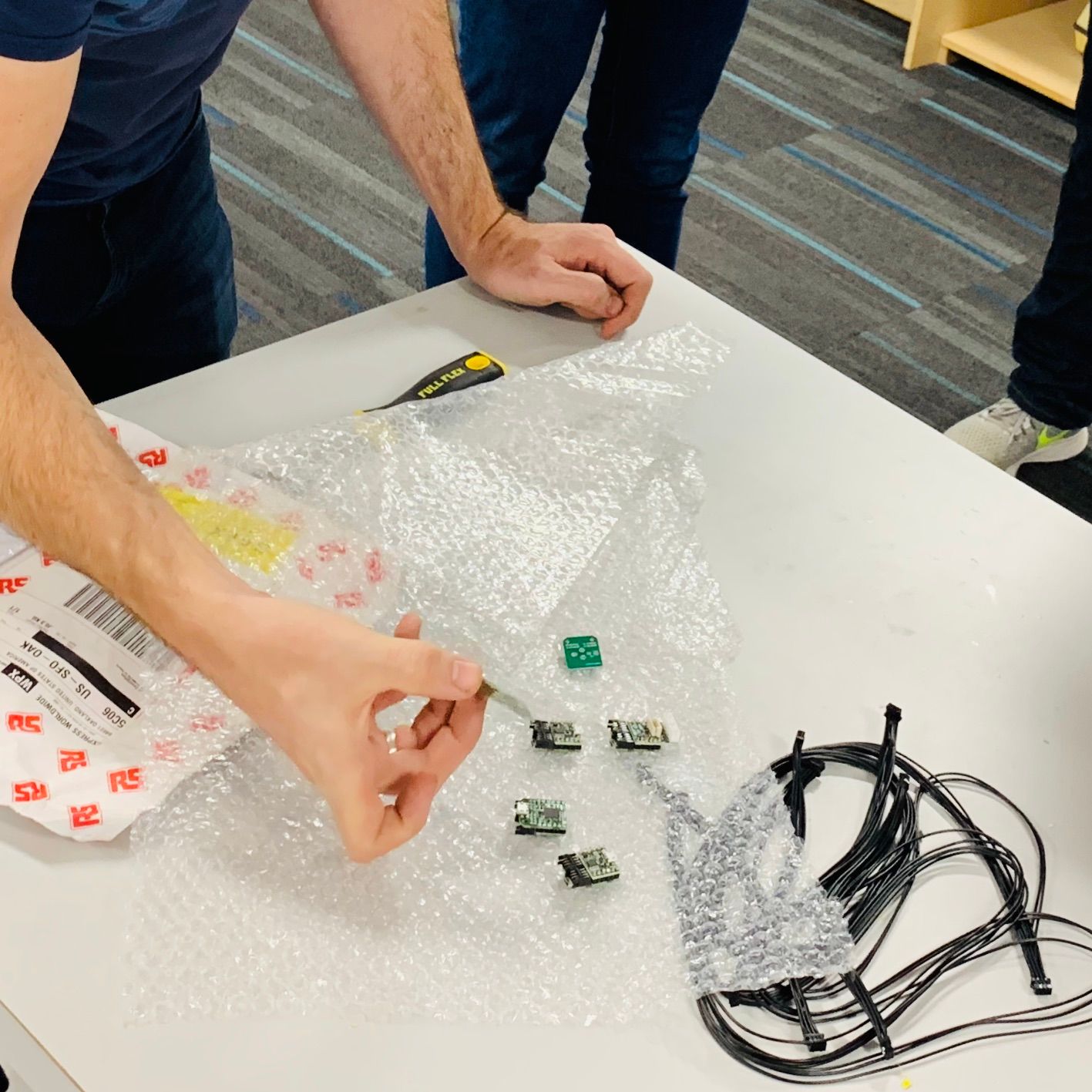 The Luos boards arrived from Pollen!!
So now the mechanical/electrical and software teams are starting the process of understanding how the boards work and what assembly looks like before building out the arm and gripper components.
The exciting journey continues!
If you're interested in applying for the Winter session of Robotics CoLab commencing January 2021, please register here