We are now taking applications for our Fall 2020 Robotics CoLab.
Team Project Pathway: Fall 2020
Our next sponsored project is to build an open source humanoid robot to serve as a platform for our community to test and prototype new applications in AI, machine vision, human-robot interaction, and intuitive robot control systems such as virtual reality telepresence.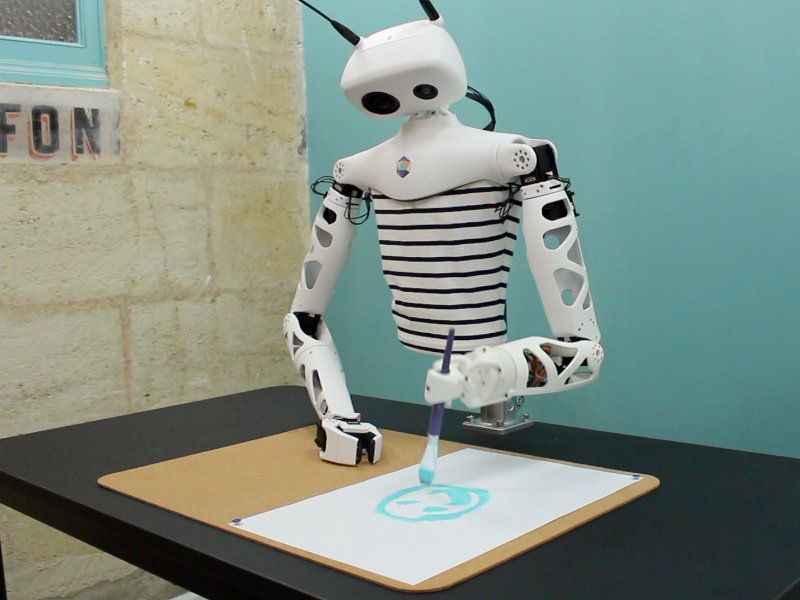 The components and materials will be provided; you and your team will build and document your process towards a fully realized Reachy! Pollen Robotics are the developers of this open source project and all designs are under the creative commons BA-SY license.
Program Structure
Each week we will be implementing a widely used industry standard SCRUM Project Management process for the team. You will be engaging in weekly sprints towards our eventual goal and be held accountable for your tasks and goals by your team members.
Custom specialized workshops, mentor-led study halls, and intensive knowledge deep dive sessions will be held weekly throughout the program. These sessions are intended to target knowledge and skill gaps, and provide momentum to overcome obstacles.
Technical mentors will be guiding students along every step of the way, not lecturing, but enabling you to learn by doing.
Week 1 sessions:

We encourage in-person participation but can make allowances for virtual attendees. Mon & Tuesday sessions are compulsory. The Wed and Friday sessions have leeway/alternatives if you have scheduling conflicts.

Monday 5th October 2020 (10am - 5pm) Robot Arm Hackathon
Tuesday 6th October 2020 (10am - 5pm) Project Planning/Kickoff
Wednesday 7th October 2020 (1pm - 5pm) 3D Printing Workgroup
Friday 9th October 2020 (2pm - 4pm) Team Cohort Show & Tell
Week 2-12 sessions:

Each week there are three group sesssions, usually:

Monday: SCRUM Checkin: Weekly Goals and Task Planning
Wed: Workshop or Open Workgroup with Mentor(s)
Friday: Show and Tell - What have you built this week?
Read more about our program here.
More questions? Watch our Info Session on 9/21
Apply Here to the 12 week Robotics CoLab starting Oct 5th.
Applications close midnight on Sunday 27 September 2020.
What would you do with a humanoid robot like Reachy? Tell us in your application!
Not interested in working on a team project? Join us for the Individual Project Pathway and set your own course. You'll benefit from all of the guidance, mentoring, and experience of our community of experts applied specifically to your custom project pathway.
You will receive full training and access to our tools and equipment ranging from bandsaws and laser cutters to 3D and PCB printers, plus membership to Circuit Launch is included.
This program is COVID compliant. Full social distancing and safety protocols are in place. Team sessions are part virtual and part small group in-person. The individual program can be attended virtually or in-person.